Top Ten Moments: The Boss in Anaheim
A couple of quality show reviews have already been posted on Backstreets and by Mr. Malchus at Popdose, so let me convey my Monday night Boss experience the following way….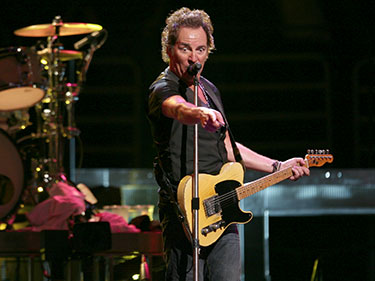 picture courtesy of Backstreets.com
Top Ten Moments from Monday, April 7th
Bruce Springsteen & the E Street Band
The Honda Center, Anaheim, California
10. "Murder Incorporated" didn't bum me out! – I've been a little hard on this song in the past. It's just never really connected with me. But following the great "Gypsy Biker", the song just seemed right tonight. There was something powerful in the air (and it wasn't a byproduct of the large amount of Mexican food I had eaten earlier). Like Bruce said after the song: "We're out for blood!" – I enjoyed "Murder Inc"…
9. J.T. Schmid's Brewery – Part of the show experience was this brewpub, located right across Katella from the Honda Center. It was 80% Boss fans, and 20% Angels fans (there was an Angels / Indians game that night). May I recommend a Hefe Weizen on the outdoor patio? I can? Good. Actually, make it three.
8. Just around the corner to the "Light of Day" – Bruce's contribution to a Michael J. Fox movie of the same name (performed by Joan Jett), this song seems to follow me from show to show. This was the show opener, and a great way to get the night started.
7. We'll make our home in the "American Land" – Bruce always seems to have an unorthodox, less well-known tune to close his shows. Remember "Land of Hope and Dreams"? For the Magic tour, it's "American Land". If you were one of the smart ones to see a Seeger Sessions show in 2006, you know it well – part Irish jig, part rocker. It was good to see a few members of the Sessions band members join him on this one (Charles Giordano – who is replacing Danny Federici for the time being, as well as Mark Anthony Thompson and Marty Rifkin, who came out for this finale).
6. Fits me to a Tee! – Being sort of a larger torso-ed individual (6'4″ and about 260 *cough*), I have a history of buying the largest concert shirts available, and after one roll in the washer & drier, I'm donning a skin tight belly shirt. Well thank you to Bruce's merch people for offering a 2XL t-shirt. I won't have to pass this one on to my wife. Sweet!
5. "Girls in Their Summer Clothes" – The Brian Wilson-esque track from Magic was one of the highlights, as Bruce dedicated it to the California Girls in the house. Great crowd sing-along moment.
4. OCMILF's – Speaking of California girls, a pleasant feature in the crowd this Monday night was the presence of several Orange County M.I.L.F.'s. Unfortunately, they were far outnumbered by a number of "You Ain't a Beauty But Hey You're Alright"s. But you take what you can get. Disclaimer: Of course, my wife, Queen of the MILF's, was all I needed.
3. "Working on the Highway" – It's always fun to see Bruce pull out tunes from his biggest album, Born in the U.S.A. Tonight, Bruce grabbed his black acoustic and led the band through this up tempo ode to the working man. Lay down that blacktop Boss man!
2. "Trapped" – I've loved this tune since I bought the USA for Africa album back in 1985. I believe this was my first live "Trapped", and may I say I enjoyed it immensely. Best moment: the first chorus – wailing and charged up – collapses back into the near silence of the second verse. Crowd goes nuts. Same reaction as any live version I've ever heard, and moving every time.
1. "The Ghost of Tom Joad" – This is the title track on Bruce's 1995 solo acoustic album. The song was covered by Rage Against the Machine in the 90's. On this night, Bruce called out his friend, activist and Rage guitarist Tom Morello to sit in. Now, I heard some pretty ugly reports from Bruce's Omaha show a couple weeks ago, where his "Vote for Change Tour" buddy Conor Oberst (from Bright Eyes) joined him on stage for "Thunder Road". Not sure what mental or sobriety state Conor found himself in that night, but the guy couldn't sing the lyrics (and apparently couldn't make his way to a teleprompter), and spent much of the song squatted down or shuffling around the stage [video]. Forget the image he tries to portray – tortured, angst-ridden or whatever – what he did was totally unprofessional.
Now skip ahead to Anaheim. Out comes Tom Morello and his custom Performance guitar with "Arm the Homeless" scrawled on the front. What resulted was an electrifying, full band version of "The Ghost of Tom Joad". Tom and Bruce traded the first two verses, and shared the choruses and the last verse. Tom's vocals were strong, defiant, and inspired. The mid song guitar solo was great, also with Bruce and Tom trading off, and then joining together in one of those Allman-esque duo moments. But things really went into the stratosphere towards the end of the song, when Tom and his "Arm the Homeless" guitar conspired in some sort of other-worldly, never before heard type solo. I (and many others) was on the edge of my seat, staring in amazement as Tom took us on a journey to some strange sonic landscape. Watch the video. It doesn't do it justice, but you get the idea.
While Oberst squandered his opportunity with the Boss in Omaha, Morello took his to another level. His appearance went beyond "sitting in" with the band. He reinvented a Bruce Springsteen song while performing it with Bruce and the E Street Band. For me, it was the highlight of the show. It's no surprise that Bruce invited him back the following night for show #2 in Anaheim. I would bet you won't be seeing ol' Conor sitting in with Bruce any time soon.
Wrap-Up: As anyone who has seen Bruce and the E Street Band live will tell you, there is something very joyful and refreshing about an E Street show. His music, his humility, his charisma, his command, his control – they inspire me.
In what could easily be argued as one of the most f–ed up times to be alive on this earth, Bruce Springsteen reminds me that, regardless of those who conspire to make this world shitty for the rest of us, there are more of us who scrape the shit off the windshield and keep on driving – who demand to find beauty, goodness and love in this life.
Bruce's music takes us down those dark roads, but he's always steering us toward the light. His music makes me appreciate my life, my family and my friends. And his music makes me very glad that I'm alive at the same time as Bruce Springsteen.